Richelieu Rock (called Hin Plo Naam in Thai) is a world famous dive site in Thailand in the Andaman Sea and is Thailand's premier and best known dive site. It is part of the Mu Koh Surin marine park although being about 18 km east of Surin Island and is one of the main dive sites to meet up with large pelagics like manta rays and whale sharks.
The horseshoe-shaped reef is known for its purple corals as well as diverse marine life ranging from small fish and harlequin shrimp to large pelagics like whale sharks, manta ray, barracuda and groupers...
Discovered by Jacques-Yves Cousteau
Richelieu Rock was discovered as a recreational scuba dive site by diving pioneer, Jacques-Yves Cousteau, with the help of local fishermen. The origin of the name is disputed. Some say it was named by Cousteau after the red color of Cardinal Richelieu's robe due to the red to purple colors of the soft corals on the reef. Others claim it was named after General Richelieu, a commander in the Royal Thai Navy.
A pinnacle amidst open waters
Richelieu Rock is a huge pinnacle that barely comes out during low tide, and is situated in open waters. The huge pinnacle climbs up from depths of the Andaman Sea. The sea bottom around Richelieu Rock is between 30-38m, the surrounding waters drop down to depths deeper then 70m. It's location, stunning underwater landscape and variety in marine life, attracts many divers from all over the world.
As Richelieu Rock is a dive site in open waters, there's no shelter for boats. Boats will moor at the available buoy, from where many divers also start their dive while descending at the buoy line or ascend back here to make a safety stop before returning back to their boat.
Moderate to strong currents
As currents can be strong at Richelieu Rock, dropping down fairly quickly can be part of diving here. Also therefore it is important that divers are up to date with their diving abilities. Prior to diving at Richelieu Rock, joining a Refresher Dive is a prerequisite when you haven't been diving over a longer period, or if you are a starting or inexperienced diver.
Diving at Richelieu Rock
Once descending at Richelieu Rock, you will already see that the dive site starts basically right under the surface. Until about 5m, the pinnacle is covered with green grasses and quickly you'll see the purple soft corals and swarms of fishes too.
Aiming for a depth down of 30-35 meters are optimum for both maximum time and pleasure! Many of the outlying boulders have incredible treats for the intrepid visitors. A slow circle around the dive site should bring you close to your safety stop by the end.
As this is a dive sites with soft to stronger currents, possible moving boats and very little protection – this is definitely a site for using a surface marker buoy during your safety stop.
Marine life at Richelieu Rock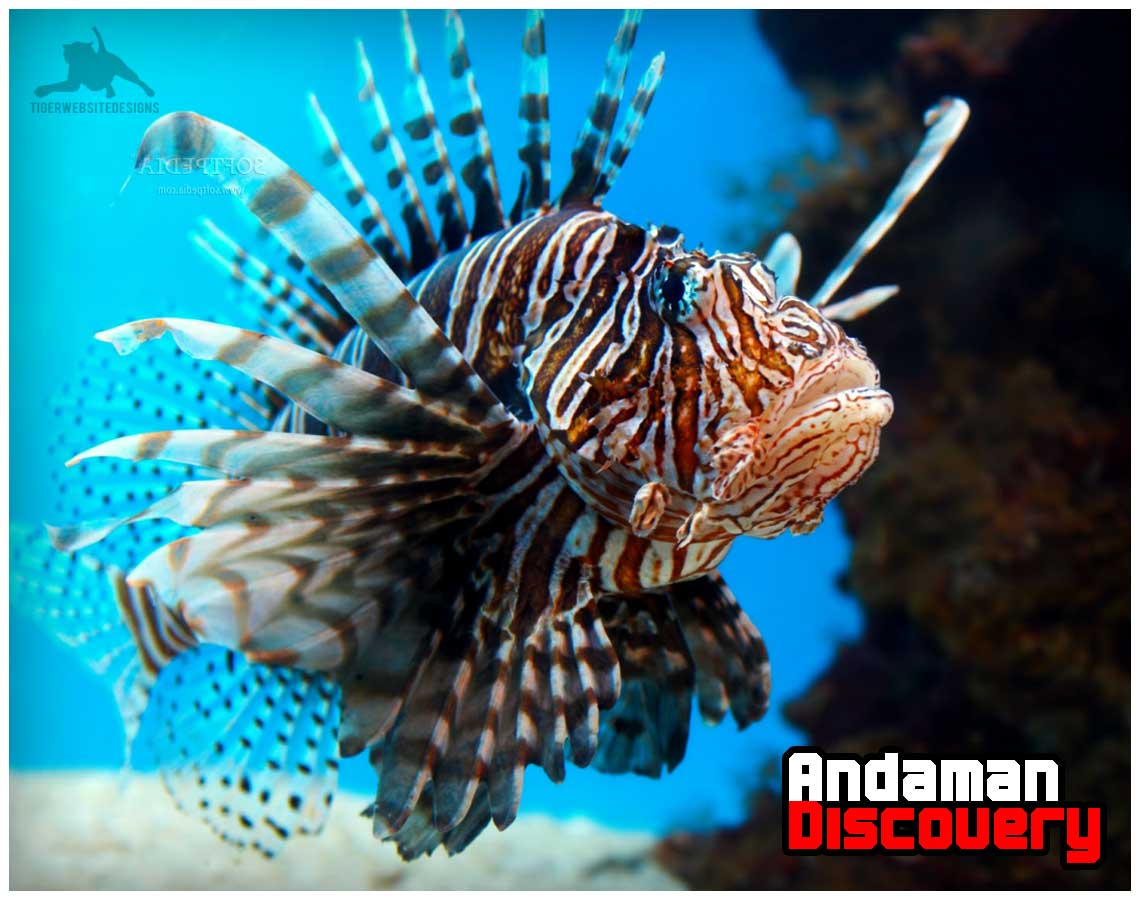 Due to the diversity of macro and large creatures Richelieu Rock is a paradise for critter lovers and underwater photographers. Photographers though, may find it a difficult decision to decide which lens to dive Richelieu with!! Of course a wide angle lens is best for great photos of whale sharks or manta rays, but you can make incredibly macro photographs here too...
Ghostpipe fish, frog fish, harlequin shrimp, seahorses, porcelain crabs, nudibranchs, pipe fish, octopus, stone fish and swarms of giant trevallies, baraccudas and tunas can be spotted at Richelieu Rock. Cuttlefish are often mating here and you can find almost any kind of moray eel. And of course there are occasional sightings of Manta rays and Whale sharks.
It's just an incredible dive site!
The incredible concentration of biodiversity at one single site make Richelieu famous throughout diving circles. Visited by both liveaboards and day trips boats, Richelieu Rock is not to be missed by any diver in the region.
You can dive at Richelieu Rock over and over again and always see something new or spectacular. We have literally made hundreds of dives over the last 20 years at Rchelieu Rock, and still wil never get bored to dive at Richelieu Rock.